fnctId=bbs,fnctNo=768
'Held an orientation for international students from Shan Dong Ying Cai Xue Yuan'
작성일

2017.08.18
수정일

2017.08.18
작성자

총관리자
조회수

2127
Wonkwang Health Science University,
'Held an orientation for international students from Shan Dong Ying Cai Xue Yuan'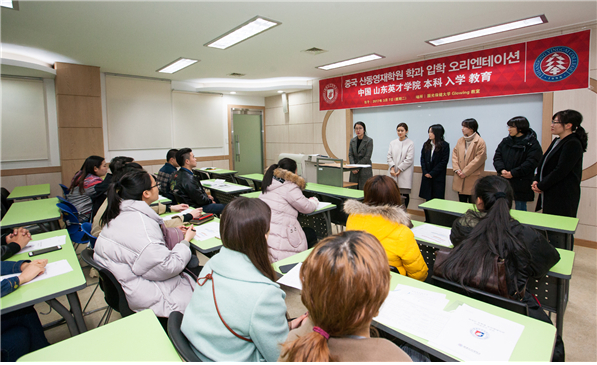 [Photo : Orientation for international students from Shan Dong Ying Cai Xue Yuan, China]


Wonkwang Health Science University (President Kim In-jong) held an orientation for international students in 2017 at Multimedia Center on July 7.


Since the signing of the agreement with Shan Dong Ying Cai Xue Yuan in 2015, the university has been running a joint curriculum.

In 2017, 16 students came from Shan Dong Ying Cai Xue Yuan in China and they will participate in classes as part of the nursing and physical therapy departments.

Shan Dong Ying Cai Xue Yuan is a four-year university of education established in 1998 and is the prestigious university that has ranked third in the overall evaluation of private universities in China for the fifth consecutive year.

Professor Kim Eul-gi, director of International Development, said, "We have already conducted a short-term training program through concluding business agreements with Shan Dong Ying Cai Xue Yuan. We will continue to enhance the global competitiveness of universities through continuous exchange, expand the attractiveness of international students, and strengthen their support activities for university life. "


Wonkwang Health Science University, which has been re-designated as the "WCC (World Class College)" as the only university in Jeollabuk-do last year and proved to be the nation's top-level specialized college, Singapore, Mongolia, and the Philippines, we have been successfully operating various internationalization projects and global capacity building programs based on our global cooperation network with more than 220 educational and industrial organizations in 20 countries.