Clinical Laboratory Science(3 years)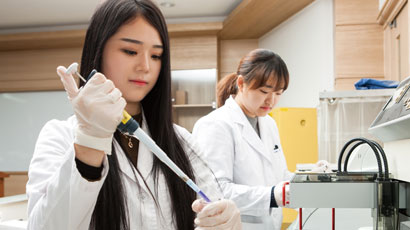 The department of clinical laboratory science is a department for laboratory medicine that provides required information in the diagnosis, treatment, and prevention of diseases. This department trains clinical pathologists who provide rapid and accurate clinical results and complete fieldwork accurately and fluently through joint curriculum design combining medical and life science theory with clinical practice.
* Certificate: Medical Laboratory Technologist, Laboratory Animal Technician, Cytopathologist, Audiologist, ASCPi, Radioisotope operator etc.
* Career path: University hospitals and general hospitals(medical centers), research laboratories of medical universities, health centers, the National Institute of Health, research laboratories of pharmaceutical companies, health-related companies etc.
Physical Therapy (3 years)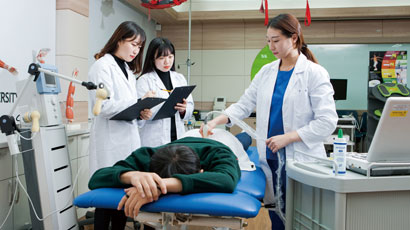 At the department of physical therapy, we train physiotherapists to cure and prevent motor disturbances. Through curricula in basic medicine, clinical medicine, physiotherapy, motor therapy, and electrical therapy, our students cure patients with motor disturbances and help prevent and treat sports injuries.
* Certificate : Physical Therapist License
* Career path : University hospitals and general hospitals, other medical institutions (rehabilitation facilities, care facilities, etc.), sports-related institutions (team doctors, motor diagnosis, sport research labs), social welfare institutions or professions (elderly welfare facilities, disabled welfare facilities, special-needs school teachers), medical device and brace appliance manufacturers.
Medical Radiation (4 years)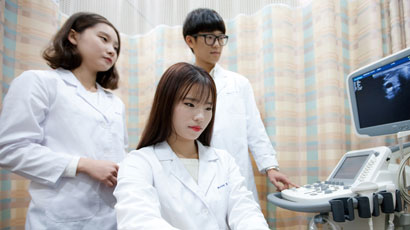 At the department of medical radiation, we train radiologists to carry out accurate imaging diagnoses of diseases and treat diseases such as cancer through radiology. Along with theoretical education on radioactive imaging diagnoses, radioactive therapy, nuclear medicine, and ultrasound imaging, we also provide clinical field training at medical sites.
* Certificate: Radiologist, Radioisotope Operator General License, International Clinical Ultrasound
* Career path: University hospitals and general hospitals, hospitals , medical centers , health centers , medical device firms
Dental Laboratory Technology (3 years)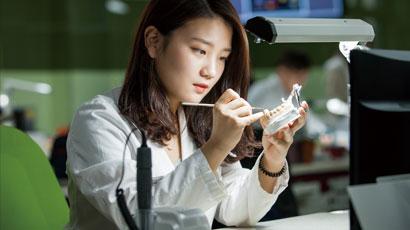 At the department of dental laboratory technology, we train experienced dental technicians to contribute to the dental health of the public. Along with an education based on the latest knowledge and information, clinical fieldwork is performed to train an expert workforce with outstanding dental technology capabilities.
* Certificate : Dental technician license
* Career path : manufacturers of dental materials, manufacturers of dental machinery, distributors of dental materials etc.
Dental Hygiene (3 years)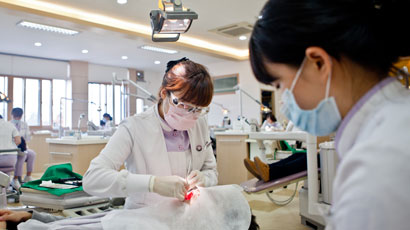 The department of dental hygiene trains dental hygienists to manage and provide education in dental hygiene for the prevention and treatment of dental conditions. The university provides fieldwork education in scaling, X-rays, and dental health insurance, as well as professional skills education in dental health activities in the regional community, dental health education and structure of health management, as well as practicum education for cultivating on-site practical skills.
* Certificate : Dental hygienist license
* Career path : Dental hospitals, medical clinics, Dental departments in medical centers, oral health departments in medical centers etc.
Optometry (3 years)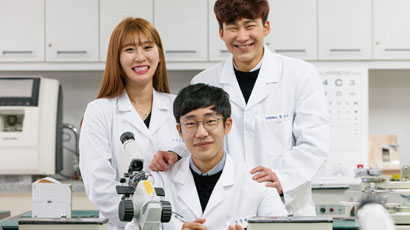 At the department of optometry, we train expert optometrists to contribute to the visual health of the public. Through systematic education in the theory and practices related to eyes and glasses in ophthalmology, optometry, lensometry, and pharmaceutics, we train our students to not only supplement the client's vision but also to recommend glasses and contact lenses that can bring out the personality of the client through sophisticated tastes.
* Certificate : Optometrist (Minister of Health and Welfare license)
* Career path : Employment in or management of optical shops, employment with manufacturers of lenses and glass frames, manufacturers of glasses, ophthalmology clinics, optical instrument manufacturers
Medical Administration (3 years)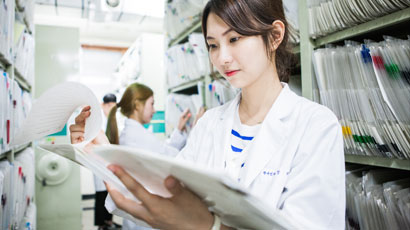 The department of medical administration trains numerous health administration professionals working in health and medical institutions around the country with a reputable and trustworthy track record. Through theoretical education in basic medicine, data processing, and hospital administration, as well as field-centric practical education, we train skilled medical recorders, hospital administrators, and medical insurance specialists.
* Certificate : Medical records (national license), hospital administration (national certification), health insurance company (private license), computer certification
* Career path : Medical information management, hospital administration
Food & Nutrition (2 years)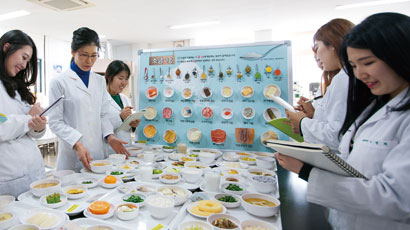 The department of food & nutrition trains skilled nutritionists to play an important role in the development of an eating culture, nutrition management for health improvement, the science of a traditional eating culture, and development of new food resources.
* Certificate : Dietitians, food industry articles, cooks, hygienists
* Career path : Nutritionist for communal feeding, meal supervisor for elementary, middle and high schools